Hose clamp/Hose band
American type worm gear hose clamp
HC1 (IDEAL type)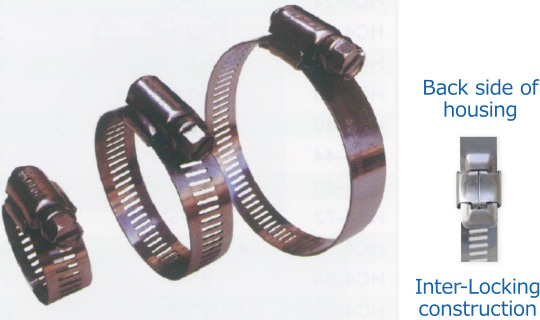 Band width : 12.7mm, 14.2mm
Band thickness : 0.6mm
Material :
ALL 304 Stainless Steel
ALL 316 Stainless Steel
Usage example
For home application /For industrial application
HC4 (BREEZE type)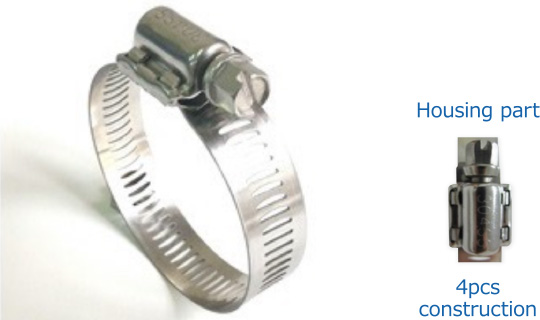 Band width : 14.2mm
Band thickness : 0.65mm
Material:
ALL 304 Stainless Steel
ALL 316 Stainless Steel
Usage example :
For general industrial machine
For drainage system
For industrial pipe
*All stainless steel product provides excellent corrosion resistance.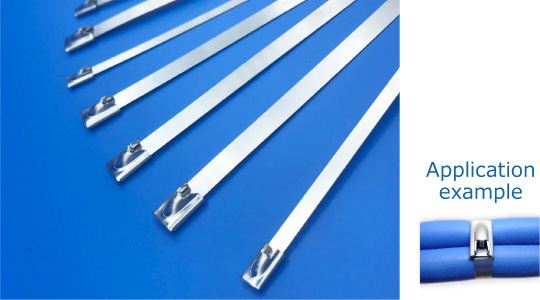 The head part of the cable tie is thin
so you can tighten even in a narrow area like piping etc. which you cannot tighten hose clamp with housing.
Stainless Steel Cable tie has a ball locking mechanism, and you can tighten it quickly and easily.
You can tighten it by hand but
with the special tool, you can tighten it more easily and quickly.
Width x Thickness :
4.6 x 0.25mm, 7.9×0.25mm
Material : 304 Stainless Steel, 316 Stainless Steel
The punching portion is so thin that it can be used even where tightening space is limited.
Width : 4.5mm, 6.3mm
Material : 304 Stainless steel